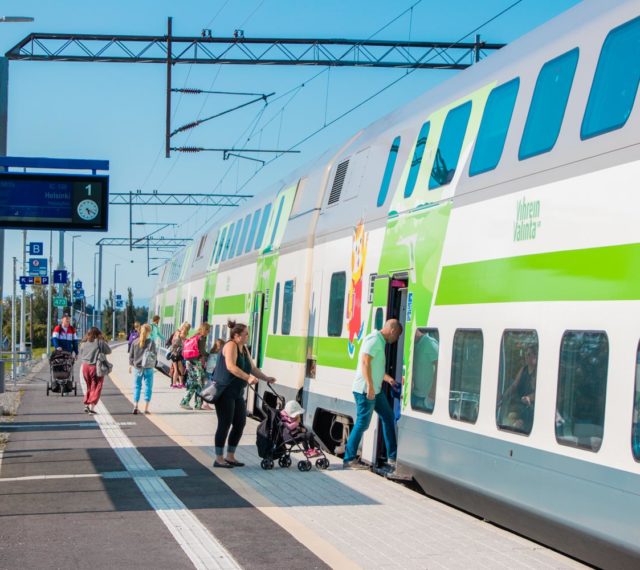 Travelling to PowerPark by train
Kick your feet up and arrive at Funland quickly and easily by rail! North and southbound trains stop at PowerPark during summer along the main line.
---
In summer you can easily reach the amusement park by train! You can get to PowerPark directly by train in a couple of hours from Helsinki, Tampere, Turku, Jyväskylä and Oulu. There is a connecting bus service to the amusement park from Härmä railway station for all trains. Buses also transport visitors back to the railway station for all departing trains. Book your train tickets, now is the time to embark on an effortless trip to Funland!
The schedules below are valid from 13 May. 
Summer 2023 train schedules to PowerPark
From South
| TURKU | HELSINKI | TAMPERE | SEINÄJOKI | HÄRMÄ | Operates |
| --- | --- | --- | --- | --- | --- |
| | 8:24 | 10:02 | 11:09 | 11:40 | Mon-Sun |
| 6:54 | | 10:02 | 11:09 | 11:40 | Mon-Fri |
| | 13:24 | 15:02 | 16:35 | 17:06 | Mon-Sun |
| 13:05 | | 15:02 | 16:35 | 17:06 | Mon-Sun |
To South
| Härmä | Seinäjoki | Tampere | Turku | Helsinki | Operates |
| --- | --- | --- | --- | --- | --- |
| 11:55 | 12:27 | 13:55 | | 15:35 | Mon-Sun |
| 11:55 | 12:27 | 13:55 | 16:55 | | Mon-Thu, Sat |
| 11:55 | 12:27 | 13:55 | 15:50 | | Fri & Sun |
| 18:49 | 19:21 | 20:51 | | 22:35 | Mon-Sun |
| 18:49 | 19:21 | 20:51 | 22:50 | | Mon-Thu, Sat-Sun |
From North
| Rovaniemi | oulu | Ylivieska | Seinäjoki | Härmä | Operates |
| --- | --- | --- | --- | --- | --- |
| 5:15 | 7:49 | 8:48 | 11:09 | 11:40 | Mon-Sat |
| | 9:16 | 10:30 | | 11:54 | Mon-Sun |
| 9:22 | 11:55 | 12:59 | 16:35 | 17:06 | Mon-Sun |
| 13:10 | 16:11 | 17:25 | | 18:48 | Mon-Sun |
| | 13:33 | 14:41 | 16:35 | 17:06 | Mon-Sun |
To North
| Härmä | Seinäjoki | Ylivieska | Oulu | Rovaniemi | Operates |
| --- | --- | --- | --- | --- | --- |
| 11:41 | | 13:07 | 14:22 | 16:46 | Mon-Sun |
| 11:55 | 12:27 | 16:51 | 17:48 | 20:23 | Mon-Fri, Sun |
| 17:07 | | 18:28 | 19:51 | 22:45 | Mon-Sun |