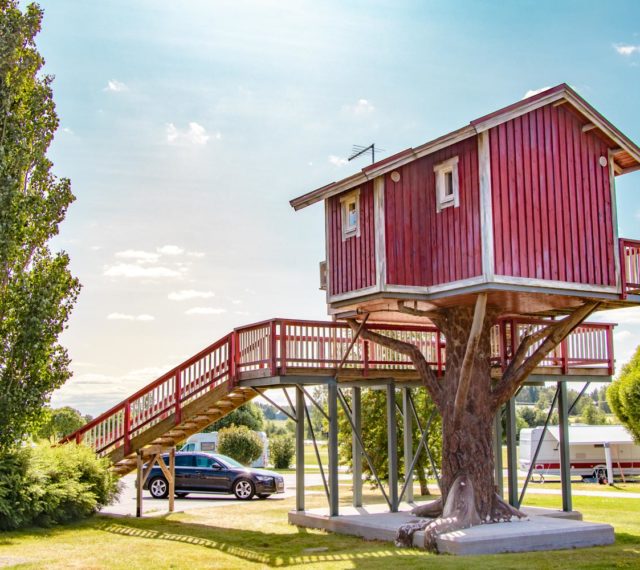 Treehouse
Sleep like a bird in a tree on a summer's night – this most personal and fascinating accommodation option in PowerPark will delight those staying in the tree's sturdy branches!
---
One of the most memorable accommodation experiences is the Treehouse. Built high up in the trees, this small cabin welcomes four guests. This imaginative cabin has two bunk beds, a washroom and a good-sized terrace.
Bathrooms, sauna, showers, kitchen and service facilities are available in the adjacent Rio Grande campsite service building. The toilets are available 24 hours a day, the shower and kitchen facilities are available from 7 a.m. to 10 p.m. and the saunas are heated in the evenings from 6 p.m. to 9 p.m. In summer, swimming is possible in the adjacent outdoor swimming pool.
The cottage has steep stairs, so it is not suitable for people with reduced mobility.
The cottages are only about 300 metres from Park Hotel Härmä and the amusement park.
Check-in to PowerPark accommodation
The hotel rooms and cabins are at your disposal from 3 p.m. on the day of arrival and need to be vacated no later than 12 noon on the day of departure. The check-in for the rooms, apartments and cabins can be done in the reception of Park Hotel Härmä (address: Puistotie 3, Alahärmä/Kauhava).