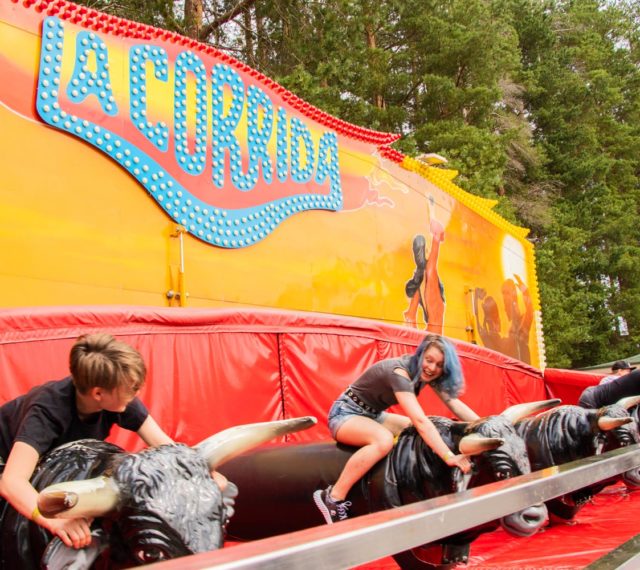 La Corrida
Get on the bull and hold on tight! Can you hold on or will you fall?
---
PowerPark's brand new, wacky bull ride for the whole family has arrived, and is ready to transport you to a rodeo atmosphere!
There are five spinning and bucking mechanical bulls on the ride, and the riders are meant to try to stay on them. This fun rodeo experience is even suitable for families as long as certain height and safety requirements are followed.
It is recommended that you wear a shirt with long sleeves and full-length trousers when getting on the ride, especially in hot weather.
Height requirement: 130 cm, Children between 110-130 cm must be accompanied by an adult (+15 years).
All riders must have their own ticket or Funband.
Accessibility: You access and exit the ride by short stairs. La Corrida is a rocking ride with no restraining bars. On the ride, you hold on to the bull with both arms and legs, and you may fall off it onto a padded mat.
The ride is not recommended for people with cardiovascular or musculoskeletal disorders, back problems, fractures, sprains or other serious injuries, or if you are pregnant. Laitteessa suositellaan pitämään pitkähihaista paitaa ja pitkälahkeisia housuja.