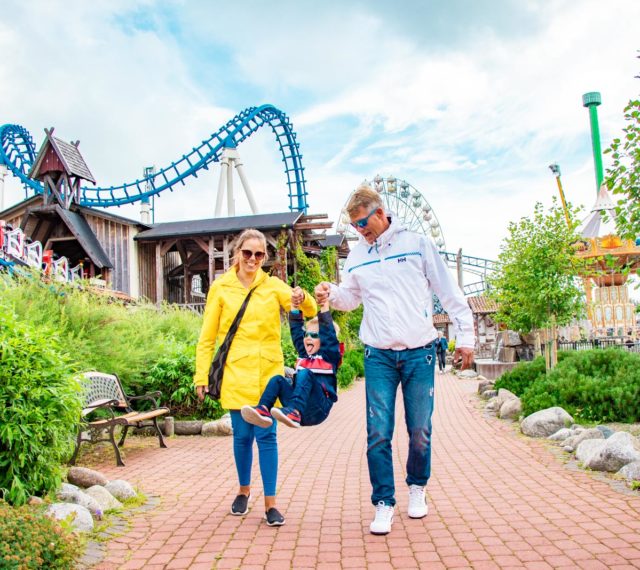 Book your day of fun!
By booking a day of fun, you ensure the most amusing trip of the summer to PowerPark!
---
The day of fun at PowerPark must be booked in advance using the calendar below. This way, we can ensure a safe and smooth day at the amusement park for all the visitors. You can easily book a day and cancel your reservation for free.
Book the most amusing day of your summer at PowerPark
Reservations will be checked when arriving at the gates by scanning the QR code sent to your e-mail. Only those who have made a reservation for the day are permitted to enter the amusement park. NOTE! In addition to a reservation, entrance to the amusement park requires an entrance ticket or wristband from each visitor. You can purchase your tickets in advance from the PowerPark online store or from ticket sales on the day of your visit.
We want to offer a fun day at the summery amusement park to everyone who is in need of amusement so we kindly ask you to book a day that you will most certainly come to visit us. If you cannot use your selected day for some reason remember to cancel your reservation as soon as possible. You can also change the group size of your reservation afterwards.
Please make a reservation as early as possible so that everyone who has made a reservation can have fun on their day of choice and no one has to turn back at the park gate or wait in vain.
You are able to make one reservation for max. 20 persons at once. If you would like to book a reservation for more than 20 persons, contact our sales services at: info@powerpark.fi / +358 10 3477 600.
Choose the most suitable day from the calendar below and you will be directed to the form to make a reservation. Please enter the number of people in your group to the number of people section on the form. You will then be asked for your first name, last name, e-mail and phone number. At the end of a successful booking, you will receive a confirmation e-mail with the details of the reservation and reservation codes. In the calendar, the colours indicate the booking status for that day. The greener the colour, the more space there is in the day's booking capacity at that time, and in turn, the redder the colour, the fuller the day is. A dark red colour signifies that the day is fully booked.